Chimney sweeping and other autumnal suggestions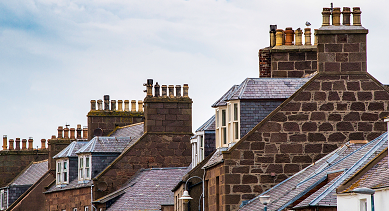 We all know owning a house comes with great responsibility. Household maintenance is even more crucial if you own a thatch or listed property.
As the weather turns autumnal, now is a good time to do some last minute maintenance before any extreme weather comes our way. We have put together some seasonal suggestions to help you protect you and your property.
Chimney sweeping
If you're a thatch homeowner, having your chimney swept once a year is a condition of our policy, and now is the time to look at your chimney before you start using it again. If you're a listed homeowner and use a wood-burner, this is still good practice.
Check your chimney often 
It's important to have your chimney swept regularly and consider having your chimney inspected. These actions will all help to reduce the risk of fire. Regular checks are the best way to keep your chimney liner in good condition. Tar and soot build up can become a solid fuel once cooled. It can therefore catch alight when you start burning your fire again.
Watch what you burn 
Make sure to take care of what you burn. It's not uncommon for a variety of wood and other rubbish to be put on fires and wood-burners. It is crucial to only burn seasoned wood or smokeless fuel on your wood-burner or fire.
Look out for damage 
It's nearly impossible to gauge whether your liner is in good condition without taking a good look at it from the inside. A CCTV chimney inspection can give you an idea of any cracks or damage to your liner.
Don't forget, looking after your chimney should be part of a larger fire prevention plan. For general safety advice and to find a sweep for your thatched property, you can visit the National Association of Chimney Sweeps.
Freeze & escape of water
Lag outside water taps to prevent them from freezing and pipes bursting. If you leave your home unattended, leave the heating on low at around 15 degrees celsius. If you are going away for an extended period, consider draining down your heating and plumbing system, however only do so with professional advice.
In case of escaped water, make sure you know where the water shut off valve – also known as stopcock– is to isolate the supply in an emergency. Lag pipes in the loft and check that the water tanks are insulated.
Storm
Prevent storm damage by regularly checking the condition of all roofs and fences for wear and tear. Make sure you have a tidy up – clear leaves from gutters, gullies and drains so they are clear to carry water away quickly and efficiently. Cut back low hanging tree branches, as these could cause damage in high winds.
You can check our policy wording for more information on our storm damage cover.
Fire
Fire can have devastating consequences. The most obvious tip is to test any smoke detectors regularly; choose a day of the month where you remember to test them on that day, every month. Avoid leaving candles unattended or in a place where they are likely to be knocked over. Always switch off electric blankets before getting into bed, and make sure they have a safety check at least once every three years.
It's also advisable to have fire blankets in your kitchen and extinguishers in certain rooms of your home. For more tips on fire safety, you can visit the Gov.uk website.
Find us on Social Media
You can also keep up to date by following us on social media.